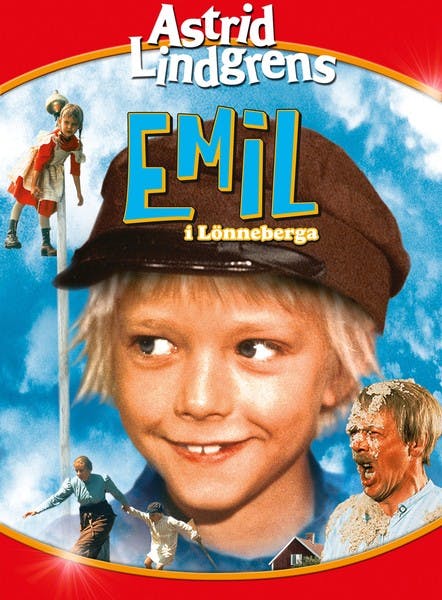 Emil in Lönneberga
Director:

Olle Hellbom
"Oh Good Lord, what a child" sighs Lina the maid, time and time again. And Emil's father Anton yells so loudly that it resounds through all of Katthult: "EEEEMIIIIIIIL!!!". Then everybody knows that for the umpteenth time Emil's on his way to the woodworking shed. It's there that Emil locks himself in when he's been up to mischief, and that happens rather a lot.
Summer like autumn, spring like winter, there's always plenty to do in Lönneberga. The summer is an excellent time to hoist little sister Ida up on the flagpole in order for her to get a view as far as to Mariannelund. And in wintertime, when mother and father are out at a Christmas party, to organise a feast for the paupers from the poor house.
In anticipation of shooting starting on the first Emil i Lönneberga film and after an extensive search, a suitable farm was found in Gibberyd. It would come to serve as the location and, to top it off; it was in Småland itself! But before it was ready to be used it had to be remodelled quite a bit. For example, an exterior fuse cabinet had to be disguised as the trunk of a birch tree, the plastic fence exchanged for an old-fashioned wooden one, and they had to build a woodworking shed. All the local people were incredibly helpful in finding suitable props in the form of old writing desks, oil lamps, wall hangings, harrows, umbrellas and many other things.
To direct animals is invariably difficult and on this occasion there were horses and cows as well as hens and pigs that had to be instructed. Allan Edwall, who played Emil's father, turned out to have a good touch with cows. It was possible to hypnotise the hens so that they lay completely still and the piglet had received special training from an expert. As a tiny piglet he had been put in 'school' with the animal-trainer Ernst Schnack and learnt how to wobble, pretend to get drunk and come when called.
The Emil-film is the only one that Astrid herself participated in as an extra. She appears, dressed in a red shawl, as a farmer's wife on Vimmerby market.
The films about Emil were later edited together and in 1975 were shown as a television series simply entitled Emil in Lönneberga, with thirteen episodes.