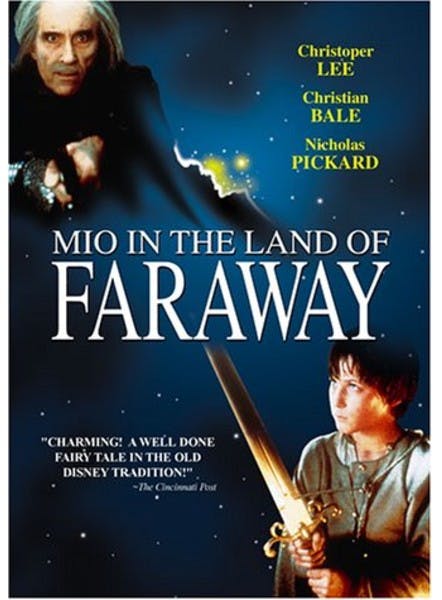 Mio in the Land of Faraway
Director:

Vladimir Grammatikov
In 1984 there had already been rumours about a Swedish-Soviet collaboration to make a film adaption of Astrid Lindgren's beloved novel from 1954, about the lonesome boy Bo Vilhelm Olsson (Andy); who meets a genie in a bottle, travels to the Land of Faraway, where his real father awaits him and tells him his real name is Prince Mio.
It wasn't Astrid Lindgren who wrote the screenplay but instead the English playwright William Aldridge, who was employed by Nordisk Tonefilm. The company was planning a major international production. At the time SF (Swedish Film Industry) and Gorkij Film were also interested, but SF dropped out before filming started. Sovin Film, Norway Film Development and the Swedish Film Institute became new co-investors.
The budget was initially set at 30 to 40 million SEK, but in the end the bill ended up costing about 55 million SEK. This made it the most expensive movie production in the history of Swedish films at that time. According to Nordisk Tonefilm the costs were due to the expensive special effects (15 million SEK), but moving locations between Stockholm, Moscow, Crimea, London and Scotland probably also contributed to the budget increasing drastically.
From the start it was already decided that the director would come from the Soviet Union, and at the end of 1984 the choice fell on Vladimir Grammatikov, responsible for several successful children's films in his own country. The film, however, would be in English, as it was felt that this would facilitate its international promotion. As a consequence several internationally recognised names were added to the cast list, and in January 1986, after auditions in London, British child actors Nicholas Pickard and Christian Bale (who later became a successful Hollywood name) were picked to play Mio and Pompoo.
The first official viewing took place at the film festival in Moscow in July 1987. In Sweden the film was shown dubbed into Swedish.
'Mio, min Mio' the theme composed for the film, was written by Benny Andersson and Björn Ulvaeus and performed by Gemini.