Old Age and Death
"I've got nothing against dying. But not tomorrow. There are a few things I need to do first."
With age Astrid Lindgren's sight and hearing dwindled yet she still kept a high tempo right into the 1990s. With the help of a hearing aid, glasses, a magnifying glass and her secretary Kerstin Kvint she answered letters, kept her affairs in order, and continued her struggle for a more environmentally friendly society. She wrote articles for the Expressen paper and for a magazine called LAND together with prominent people like Marit Paulsen, Stefan Edman and the boss of Volvo, Pehr Gyllenhammar.

One by one her good friends began to die. In December 1991 Anne-Marie Fries passed away. "I had wished that she would die and leave everything painful behind her, but when it finally happened, it felt unbearable. It's wrong to say that our friendship ended after 77 years, our friendship still remains despite one of us being dead."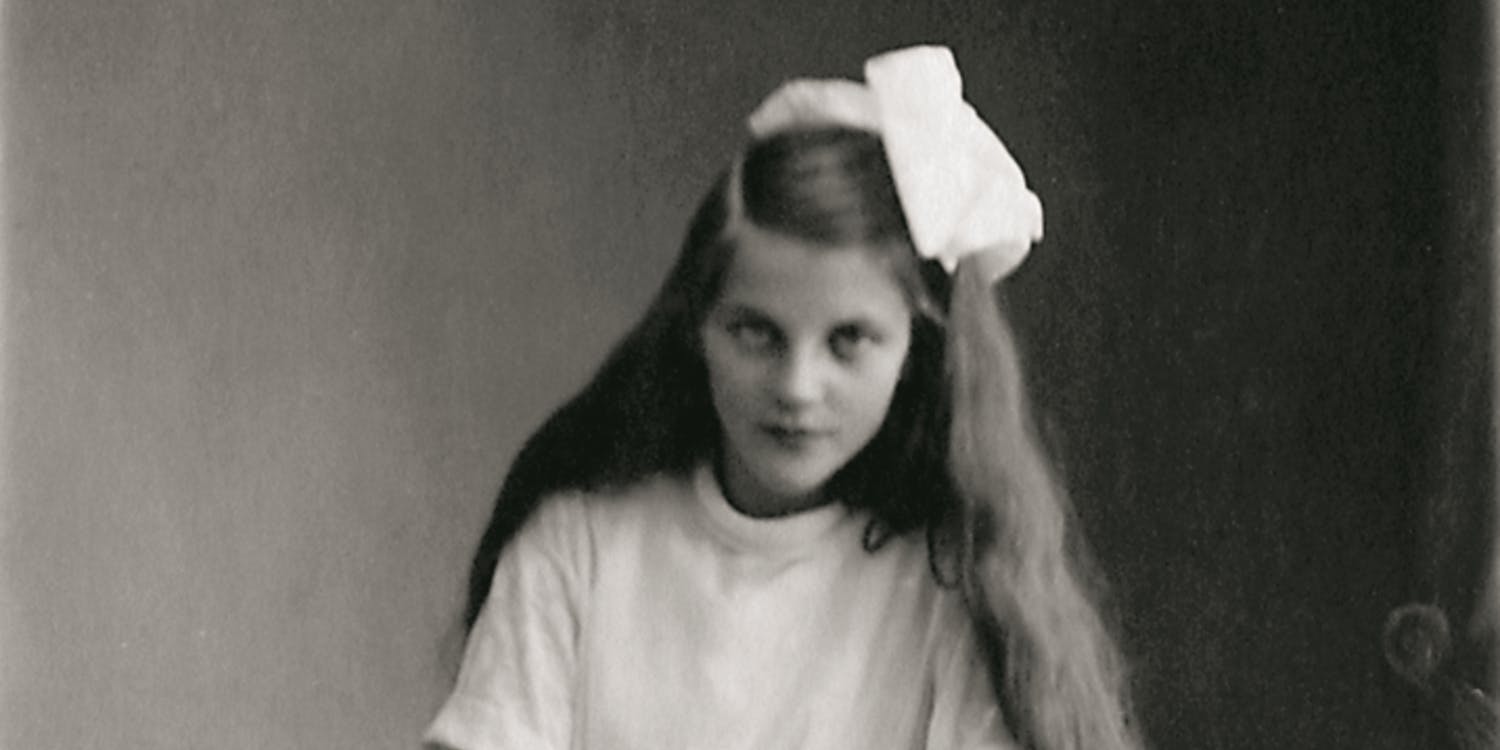 Anne-Marie
Astrid's best friend's name was Anne-Marie, but her nickname was Madicken – a name used by Astrid for one of her main characters (Mardie in English). Anne-Marie lived in a house not far from Näs, on the road to Vimmerby. They met as 7 year-olds when Anne-Marie was walking along, rolling a metal hoop beside her and Astrid asked her where she was going. Then Astrid went home with Anne-Marie and after that they became best friends.
More about their friendship
The last major creative project that Astrid Lindgren completed was the 'Story Train' at Junibacken in Stockholm. In 1994 she and illustrator Marit Törnqvist began to work on writing the script and recreating the settings from the books. "First we read aloud. When I had read a section we were able to talk about the scenography and find the right words. It was an incredible experience to be there as she was searching for the right tone. Every time she surprised me with her way of expressing herself. It was as if she threw all the words up in the air, then caught half of them, and finally decided to rearrange them completely." It took almost two years but on the 8th of June 1996 Junibacken finally opened to the public.

In 1995 Astrid Lindgren was present at the start of the construction of what would become Astrid Lindgren Children's Hospital at the Karolinska University Hospital. She made a speech where she compared the old-fashioned authoritarian children's wards with this new children's hospital. Here children and their well-being would be the guiding principle for both the care and the design of the hospital - and a respect for children its central focus. That was her wish when she agreed to give her name to the new hospital.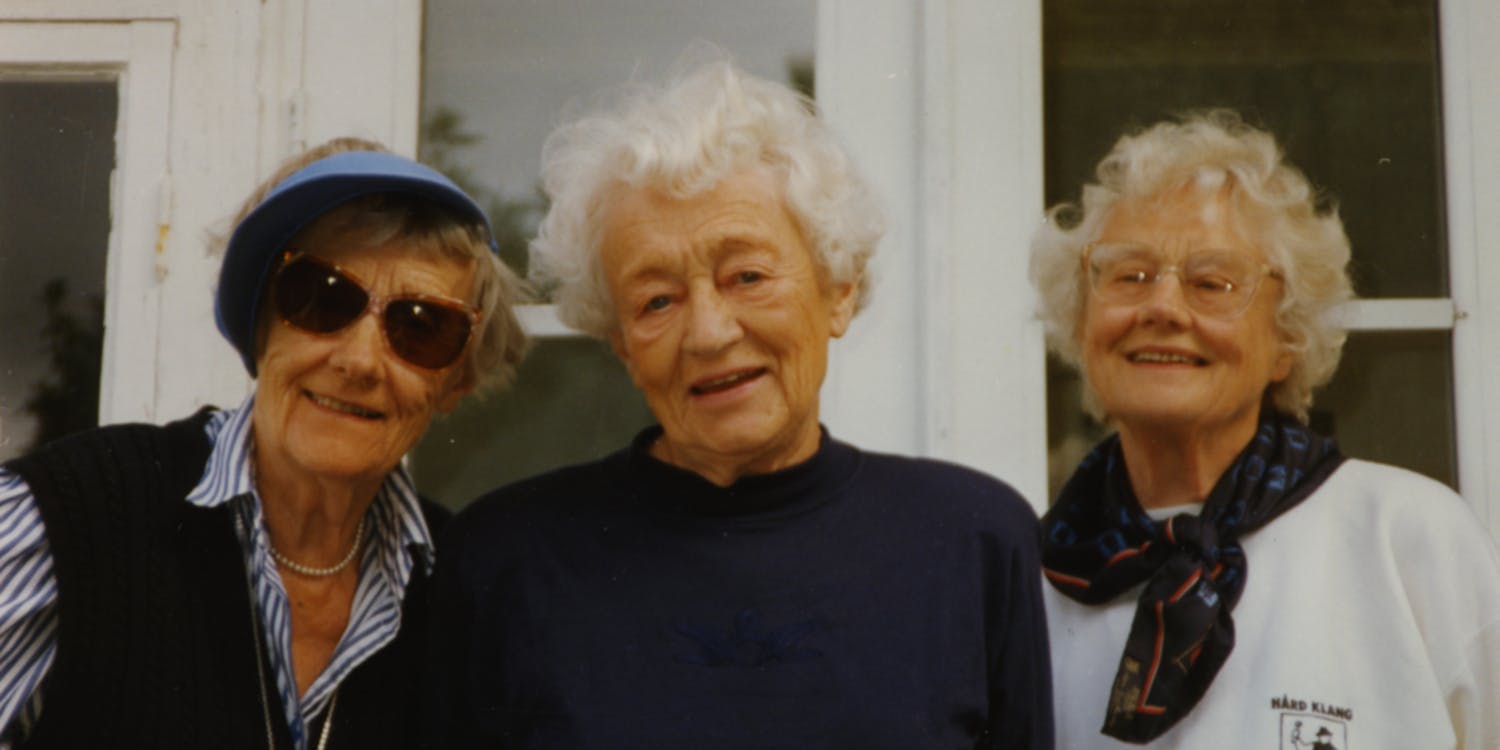 Death, death, death
Astrid Lindgren and her sisters talked on the phone every day up until the death of Ingegerd in 1997. Astrid told Margareta Strömstedt that they began each call with the words "'Death, death, death', as a way of calling out the most terrible and unavoidable thing, to reckon with death, at the same time as taking the edge of all its sentimentality."
In the same year that Ingegerd died Astrid Lindgren turned 90. It was celebrated in great splendour in Vimmerby with the Prime Minister present - but the birthday girl herself was not. She celebrated together with her closest friends and family, a safe distance away from parades of children, flag waving, and the Prime Minister's cheque of 7.5 million SEK, the same amount as the Nobel Prize she never received, money intended for the new Astrid Lindgren-house in Vimmerby.
In Stockholm the Post Office delivered fourteen bags of mail to her house on her birthday, the bags took up the entire living room, and her daughter Karin helped her read the letters that had come from all four corners of the world. "Then Mum looked at me and said 'But don't you think this is rather strange?' 'Yes', I said, because I thought so too, but then we just continued reading the next letter. And when she found out that she had been chosen as the 'International Swede of the Year' she, 'ancient, half-dead and completely crazy' as she insisted she was, laughed for two days flat at the absurdity of it all."

In December 1997 Boris Yeltsin, Russia's first democratically elected president, visited Stockholm. He met Astrid Lindgren at an official governmental lunch. The headlines in the Swedish newspapers in the following days read: "Yeltsin met Astrid Lindgren". There was no doubt as to who was the most important person at that lunch.
"
Oh my dear little squiggle. Don't let me grow any biggle.
"
Pippi Longstocking in the South Seas
At the age of 91 Astrid Lindgren suffered a stroke, and found it increasingly difficult to move about and participate in public events. Kerstin Kvint visited her several days a week and helped her with all the letters that had to be opened and answered. "At the beginning, after the stroke, she was quite sombre and guarded and didn't really have the energy to properly engage with the letters, but I kept on reading them to her as usual and later replied myself. And in this way our work continued up until Christmas 2001. At that point she had, since a little while back, become much happier and energetic and was able to laugh and speak long sentences."

In January 2002 Astrid Lindgren passed away at her home on Dalagatan. Her daughter Karin was with her and soon the closest family arrived to say their goodbyes. Outside on the street thousands of people from Stockholm gathered to leave flowers, light candles or just stay for a moment in silence. Astrid Lindgren practically received a state funeral. Her coffin travelled by horse and carriage through Stockholm and right at the back of the funeral cortege walked a white un-saddled stallion. The funeral was held on the 8th of March, International Women's Day. The streets of Stockholm were filled with hundreds of thousands of people following her last journey towards the Storkyrkan church in the Old Town.
Amongst those who spoke at her funeral was her friend Margareta Strömstedt.
"'There are things you just have to do, even if they're inconvenient and dangerous and you rather not, because otherwise you're nothing more than a lousy louse.' Astrid Lindgren was a brave person, no lousy louse. And within her body, that became weaker and more fragile during her last years, the Bullerby-child still lived. The one who never lost her intuitive feeling of what it means to be a child. The one who knew that we have to cry, as much as we can - but then laugh all the more."
Milestones in Astrid's life
1995
The first Swedish satellite is launched and is named "Astrid1" after Astrid Lindgren. On board are three instruments named after the characters Pippi, Mio and Emil.
1999
A jury appointed by the Swedish Radio's Culture Department elect the Author of the Millennium. Astrid Lindgren is voted second after William Shakespeare.
2002
The Astrid Lindgren Memorial Award (ALMA), the world's second largest prize for literature, is instituted by the Swedish government.