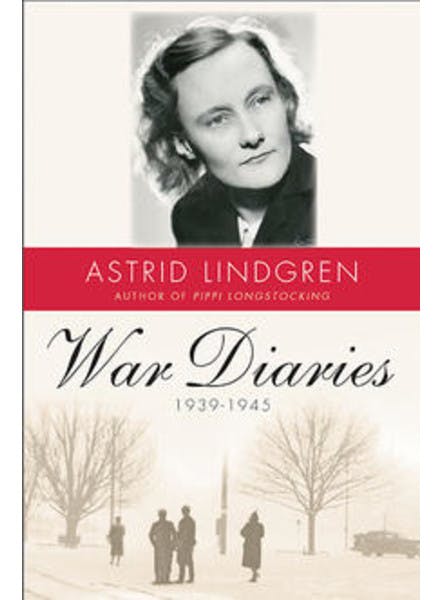 War Diaries 1939-1945/A World Gone Mad
2015
Format:

Biography

Author:

Astrid Lindgren

Translator:

Sarah Death

Publisher:

Yale University Press, Pushkin Press
In May 2015 Astrid Lindgren's War Diaries was released, just as she wrote them. A unique document from an ordinary person, who also happens to be one of the world's most famous Swedes.
Throughout the war Astrid Lindgren keeps a diary in which she writes about daily life in Stockholm, what's going on in the world and about Sweden's actions. Her War Diaries constitutes a very personal account of how dramatic world events affect us all. The text is charged with sorrow and dread. This is written before Astrid Lindgren's time as a world-renowned author; the first book about Pippi Longstocking was released at the end of the war – 1945.
Alongside Astrid Lindgren's own notes, the diaries contain a great number of clippings from Swedish newspapers, to which she has added her comments. The book includes more than 70 facsimiles of diary pages as well as many previously unpublished family photographs from the 30s and 40s. Author Kerstin Ekman, who knew Astrid Lindgren, writes the foreword and Astrid's daughter Karin Nyman writes the epilogue.
Astrid Lindgren's books are an invaluable part of Scandinavian cultural heritage and are for ever reaching new readers and gaining importance around the world. What many do not know, is that she was anti-Nazi at an early stage, and that throughout her life she fought against war and violence. She was a convinced humanist and stood up for her opinions with courage, humour and love.
The publishing rights are sold to 22 countries (2023): Brazil, Bulgaria, China, Croatia, Czech Republic, Denmark, Estonia, Finland, Georgia, Germany, Hungary, Japan, Latvia, Lithuania, The Netherlands, Norway, Poland, South Korea, Slovenia, Ukraine, UK and USA.
"Astrid Lindgren's second world war diaries make for crisp, painful reading."
The Spectator
"Lindgren doesn't experience the same privations as her European neighbours, of course; nevertheless the conflict is hugely formative for her, both psychologically and morally... Her appreciation of the individual cost of such large-scale suffering is striking"
The Observer
"Laden with sadness and dismay," the diaries show everything from Lindgren's horror at the deportation of 1,000 Norwegian Jews to Poland - "it is diabolical!" - to her personal heartbreak after a marriage crisis"
The Guardian
"Sensitive, wide-ranging and offer a rare Scandinavian perspective on the catastrophe of the Nazi war."
Wall Street Journal